Lakeway Christian Academy Principal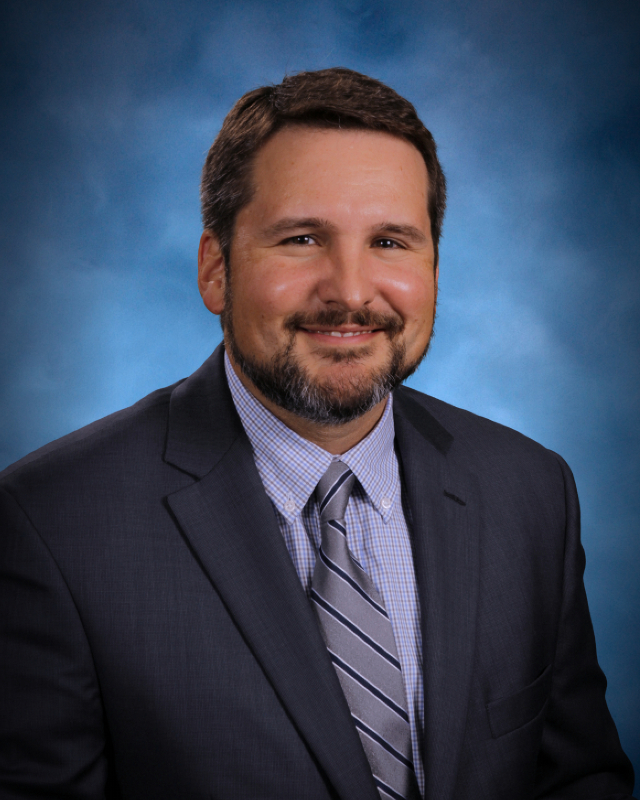 David McVicker
Principal, LCA
Education:
BS Science Teaching - Physical Sciences (Clemson University)
MEd Educational Leadership (Covenant College)
Experience:
This is David's 20th year in education, with 19 of those in Christian schools. He has served as a physics teacher, middle school science and math teacher, elementary assistant principal, Director of Instruction and Academic Technology, Upper School Head, and Head of School for schools in South Carolina, Georgia, and now in Tennessee.
David grew up in Lexington, SC where he met his wife Bridget at Lexington Presbyterian Church where both families were members. Bridget is also a teacher, with experience in both public and private Christian schools. She currently teaches 3rd grade at Cornerstone. David and Bridget were married in 2002 and have two children: Mary Woods and Hardy.
Some the achievements David is most proud of include: oversight of a 1-to-1 iPad roll-out for over 600 students including faculty training and device management; and a unique series of humanitarian projects that saw students design technical solutions to real problems in poverty-stricken areas and then travel to Swaziland and Jamaica to implement those solutions and train the local people how to recreate them on their own.
David believes that his call to education is to equip students to grow the kingdom of God by giving them the tools they need to bear influence in the world that they will inherit. In order to accomplish this, schools must be places of dynamic, engaged learning where students are challenged to think critically and creatively, to communicate effectively and persuasively, and to collaborate with those around them to achieve the best possible results.
In his spare time, David enjoys music and playing the guitar, hiking and backpacking, fly fishing, and most of all, spending time with his family.
Family:
Wife - Bridget
Children - Mary Woods and Hardy at Lakeway Christian Academy
"But the wisdom from above is first pure, then peaceable, gentle, open to reason, full of mercy and good fruits, impartial and sincere."
- James 3:17
LCA Leadership Team
| | Name | Title | |
| --- | --- | --- | --- |
| | Curberson-Alvarado, KC | Director of CTE, LCS; Asst Dean of Students, LCA | |
| | Ezell, Jeramy | Assistant Principal, LCA; Assistant Golf Coach, LCA | |
| | Haywood, Steven | Dean of Students, LCA; Football Head Coach, LCA | |
| | Hoffmeister, Nathaniel | Athletic Director, LCA | |
| | McVicker, David | Principal, LCA | |
| | Moyer, Jason | Director of Christian Life, LCA | |
| | Winstead, Abigail | Admissions Coordinator, LCA; Events Coordinator, LCA | |
LCA Faculty
| | Name | Title | |
| --- | --- | --- | --- |
| | Banks, Angeline | Teacher, Biology | |
| | Barrows, Kevin | Teacher, History | |
| | Bryant, Kendall | Teacher, Robotics | |
| | Butler, Brittney | Teacher, Band | |
| | Butler, Rhett | Teacher, Band | |
| | Coffman, Randy | Teacher, PE; Girls Basketball Head Coach; Assistant Athletic Director; LCA | |
| | Combs, Justin | Teacher, PE | |
| | Cox, Chadwick | Teacher, History | |
| | DeLisle, Keith | Teacher, Math | |
| | Harkness, Jonathan | Teacher | |
| | Harkness, Kasey | Teacher | |
| | Hubbard, Jeffrey | Teacher, Robotics | |
| | Humphrey, Kristy | Teacher, English | |
| | Irby, Anna | Teacher, Foreign Languages | |
| | Irby, Ian | Teacher, History | |
| | Lowery, Jay | Teacher, Math; Football, Softball | |
| | Mansour, Savannah | Teacher, English | |
| | McFarlane, Abigail | Teacher, PE; Volleyball Head Coach; Athletic Admin Assistant, LCA | |
| | Morelock, Chris | Teacher, Drama / Theatre | |
| | Morgan, Stacey | Teacher, History | |
| | Morris, Morghan | Teacher, Science | |
| | Ochs, Madelyn | Teacher, Culinary Art | |
| | Summers, Zach | Teacher, Latin | |
| | Talley, Christopher | | |
| | Tuggle, Avery | Teacher | |
| | Tuggle, Chase | Teacher | |
| | Warner, Carolyn | Teacher, English | |
LCA Support Staff
| | Name | Title | |
| --- | --- | --- | --- |
| | Alvarez, Martha | Cafeteria Manager | |
| | Barrett, Gene | Facilities Team | |
| | Fanti, Roger | Security, LCA | |
| | Glasscock, Terri | Cafeteria Worker | |
| | Goodall, Michael | Assistant Director of Facilities, LCS | |
| | Hurd, Crystal | Cafeteria Worker | |
| | Iverson, Erin | Lunch Assistant | |
| | Lynch, Michael | Facilities | |
| | McFarlane, Abigail | Teacher, PE; Volleyball Head Coach; Athletic Admin Assistant, LCA | |
| | Meadows, Gregory | Facilities | |
| | Reed, Ellen | Assistant Director of Christian Life, Girls Softball Coach, LCA | |
| | Talley, Beth | Admin Assistant, LCA | |
| | Turkett, April | Receptionist & Registrar, LCA | |